Grilled Pizza with Eggplant and Goat Cheese
This post may contain compensated links. Please read our disclosure policy for more information.
This shop has been compensated by Collective Bias, Inc. and its advertiser. All opinions are mine alone. #SummerSoStrong #CollectiveBias
You may think pizza is an Italian favorite, but don't be surprised to find a French person indulging in their own personal pizza. In fact, a grilled pizza like this would have tons of French people flocking to it in a heartbeat!
Grilled Pizza
Let me first start off by saying that I had the best pizza of my life in Paris. While I haven't been to Italy yet, I imagine the pizza I had in Paris came pretty close.
During one of my trips to Paris, I stumbled into a tiny Italian restaurant one night, searching for a bite to eat. I was hungry, tired, and happy to find somewhere close to my apartment.
I was surprised to find the entire staff conversing in Italian, so much so that I almost thought I may have flew into Rome rather than Paris.
I didn't know what was good, so I decided to just order the house pizza, thinking you can't go wrong with pizza. Oh man, little did I know that pizza in Paris would ruin all other pizzas for me.
The pizza was crisp with those toasted bubbles along the rim of the crust. It was the kind of pizza that you can only create with wood-fired ovens.
I suddenly understood why I'd seen so many Parisians enjoying pizza at various Italian joints in France.
At home, it's really difficult to create pizza crust that's just as crisp with little charcoaled bits if you don't have a wood fire oven. Well, that's where the grill comes in handy. Say hello to your new favorite way to make pizza.
Skip the dishes!
Not only is grilled pizza a fantastic way to get a super crispy crust on your pizza, it's a dream recipe to make when you have family and friends over, hanging out in the backyard.
If you buy pre-made pizza dough, then you really don't have much prep to do ahead of time before your guests come. Instead, you can hang out with your friends and have them lend a hand in making their own grilled pizza.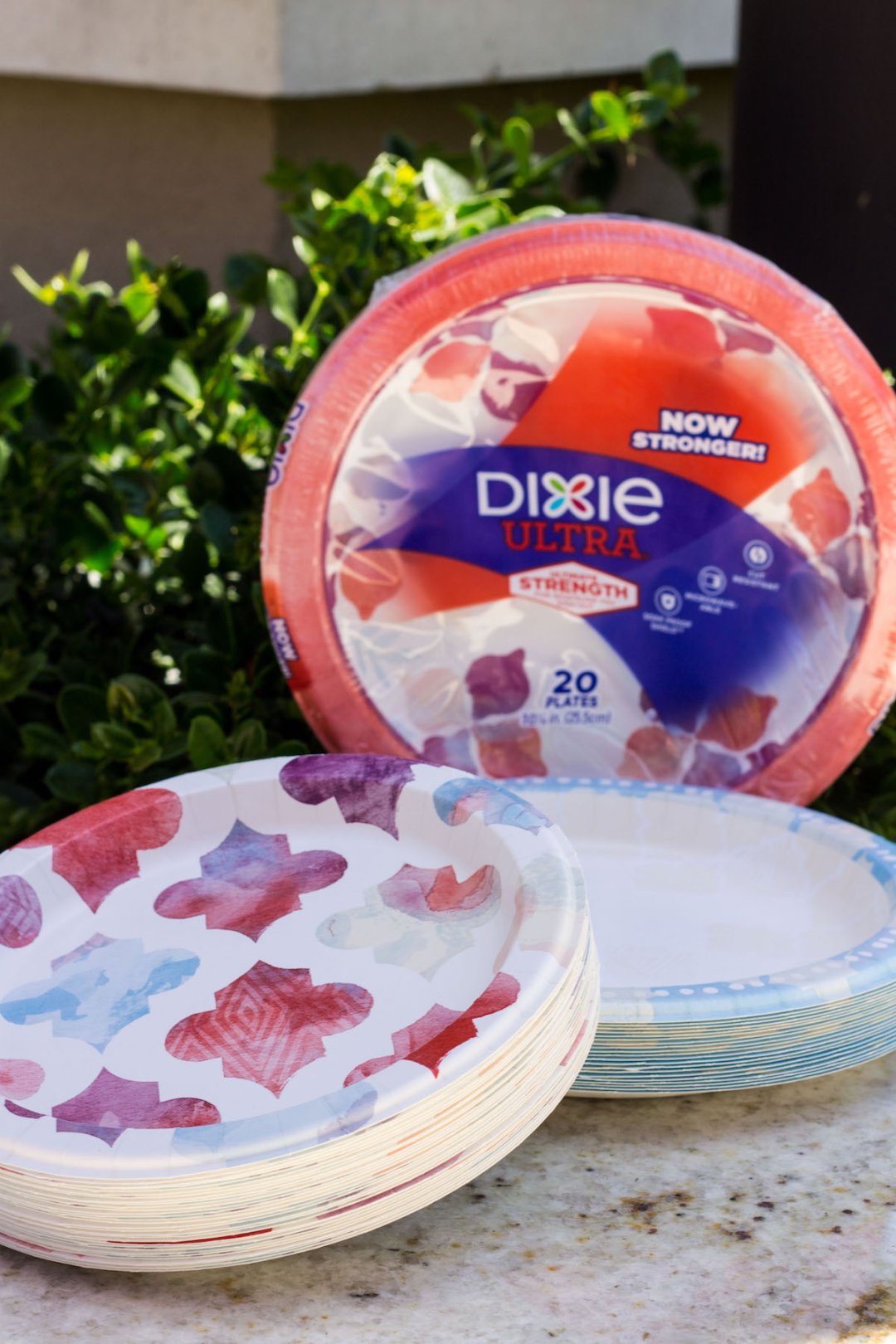 I'll usually slice up the toppings ahead of time and line them up next to the grill, right next to a set of Dixie Ultra® plates. The Dixie Ultra plates are the best because they're strong and sturdy, which is exactly what you need for personal size pizzas like these.
Plus, Dixie just came out with a fantastic new design for the summer, making dinner outside not just stress-free but stylish too! I get to skip dish-washing and still be a fashionable hostess.
I bought their new "co-create" design exclusively at Target. The new design is microwave-safe, recyclable, cut-resistant, and stronger than ever. If you'd like to pick up some of these plates for yourself, feel free to head there this coming week (5/25-6/8) and you'll get 10% off using this offer.
The Toppings
This grilled pizza recipe is absolutely delicious with eggplant and summer squash. I like to use Japanese eggplants and yellow squash. Aside from being in season and delicious, the two vegetables have relatively small diameters and can fit nicely on these personal-size pizzas.
For the sauce, your favorite jar of marinara sauce will do. A thin layer of sauce is smeared on the pizza dough before it's topped with mozzarella and the vegetables.
Crumbled goat cheese is added on just before the grill gets covered. The final touch is some fresh basil leaves and a grind of sea salt.
Your guests will love the idea that they can decorate their own grilled pizza as they please, and you'll love the fact that you can actually sit back and enjoy the gathering with your friends rather than spend the entire time in the kitchen.
Grilled Pizza
Personal size pizzas made on the outdoor grill.
Ingredients
1 roll/recipe of pizza dough, homemade or store-bought
1/4 cup marinara or pizza sauce
1/2 cup shredded mozzarella cheese
1 small Japanese eggplant, stem removed, sliced thin
1 small yellow squash, stem removed, sliced thin
3 oz. goat cheese, crumbled
fresh basil, to garnish
sea salt
olive oil
cornmeal, for the pan
Instructions
Turn on the outdoor grill to high heat. Divide your pizza dough into 4 pieces. Use your hands or a rolling pin to stretch out the dough into thin rounds. Place each prepared dough round onto a baking sheet sprinkled with cornmeal.
When the grill is hot, turn down the heat to medium and place dough rounds onto the grill. Close the lid to the grill and cook for 1 minute. Flip the pizza dough rounds over, then brush each with olive oil. Spread about a tablespoon of marinara/pizza sauce over the top of each round (just a thin layer).
Add the shredded cheese, sliced veggies, and crumbled goat cheese to the pizzas. Cover the grill and cook for another 8 to 10 minutes. You'll want to check on the pizzas halfway through. If the crust is getting too dark on the bottom, lower the heat and cook until the veggies are softened.
Before serving, drizzle olive oil all over the pizzas and garnish with fresh basil and a grind of sea salt.
Nutrition Information:
Yield:

4
Serving Size:

4 Servings
Amount Per Serving:
Calories:

433